Why Invest in a Swimming Pool?
The Reasons Are Endless- Here is a short list:
*Owning a pool is like being on vacation every day *A backyard swimming pool is always a fun place *Kids learn to swim early *There is no better place to relax than a pool *Give and get the Best Family Present Ever *Enjoy yourself- it's later than you think *Swimming is the best exercise *The way to sleep better *Great for arthritis and sore joints *A wonderful environment for those with disabilities *Build a strong heart *Discover an alternative to being a couch potato *Help your children build confidence *Floating it's freedom from stress and tension *Beat the heat *You'll know where your kids are *A family meeting place *There will be less grass to cut *Grandchildren will want to visit you *Know it's there and always ready *Have your own private Lagoon *Make a new friend *Poolside wedding are spectacular *Your personal luxury escape *Perfect for entertaining *Swimming pools are affordable *Today's technology keeps operating costs down *An inexpensive date *Revamp your lifestyle without relocating *A pool is a great asset * It makes your house a home *Add beauty to you home *Get your dose a daily vitamin D * Add value to your estate *Create a tropical paradise *It's your private oasis *A site for beautiful, gracious entertaining * Just plain fun *etc..............
Add your reasons to the list......
Get Your FREE Guide to Help in Planning Your Backyard Staycation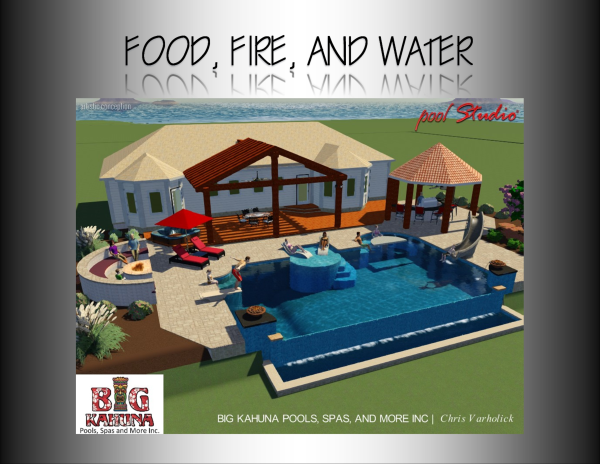 If you would like an above ground pool we have a
GOOD, BETTER and BEST program that is available in all of the popular sizes and shapes.
We build all three types of In-ground Pools: Vinyl liner, Fiberglass Composite, Concrete/ Gunite. Each pool has their advantages and disadvantages, the best pool for you depends on your budget, location and wants. We have many basic pools to a complete custom designed pool just for you.
We can handle the complete job including the following: fencing, pavers, coping, stamped and decaorative concrete, retaining walls, water features, rock water falls, fire pits, fireplaces, outdoor kitchens, pergolas, spas, swim jets, sliding boards, and even a lazy river if you like.
We can design your pool in 3D!
Dolphin M-4 Automatic Pool Cleaner